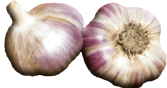 Show All Umbels
Umbels are sold by the piece. The number of bulbils per umbel is listed on the cultivar details screen which can be accessed by clicking on any cultivar picture.
IMPORTANT: Growing bulbils into full, mature garlic bulbs takes anywhere from 2 to 5 years. Do not expect bulbils to produce full bulbs in one year.

NOTE: Umbel orders placed at this time will be fulfilled with our 2022 harvest and will ship in early September.