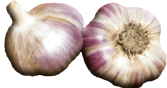 MINIMUM ORDER OF $25
30,000+ LARGE RED RUSSIAN NON-ORGANIC BULBS STILL AVAILABLE--IN BULK QUANTITIES ONLY.
CALL 250-547-2077 OR EMAIL ADMIN@RASACREEKFARM.COM IF INTERESTED IN OVER 3,000 BULBS.
A small percentage of these large bulbs have mechanical damage to 1 clove. For every 100 bulbs purchased, we will be adding 8.2 bulbs to your order to make up for damaged cloves and for the inconvenience of culling the damaged cloves out of your planting stock.
______
SALES BY THE POUND: We've added a couple of cultivars to our CULINARY department, including Chesnok Red and some incredible, and large, Red Russian bulbs at only $13.75/lb. Go to GARLIC BY THE POUND to see what's available.
BULK PURCHASES: Please call if wanting to purchase larger bulk quantities
USA & INTERNATIONAL ORDERS DISCONTINUED: Our apologies to those in the USA who had planned to purchase seed garlic through us. We have decided to discontinue sales to the US at this time.
Workshops: Click on the Garlic Workshops category to learn more and to register. (We've moved all our workshop events to the Zoom (online video conferencing) platform during this period of COVID-19.)
Featured Products