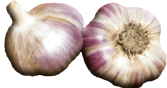 MINIMUM ORDER OF $25
STORE OPEN
BULK QUANTITIES STILL AVAILABLE (Fall 2023): We're removed all items from our online inventory BUT still have access to large quantities of bulbs to satisfy our farm customers. We've got approximately 50,000 bulbs in Red Russian:
Please call us at 250-547-2077 if interested.
USA & INTERNATIONAL ORDERS DISCONTINUED: Our apologies to those in the USA who had planned to purchase seed garlic through us. We have decided to discontinue sales to the US at this time.

Workshops: Click on the Garlic Workshops category to learn more and to register. (We've moved all our workshop events to the Zoom (online video conferencing) platform until further notice.)
Featured Products