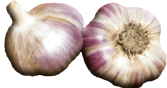 MINIMUM ORDER OF $25

SOLD OUT: Our 2021 seed bulbs are now sold out. Seed Umbels are still available.
BULK PURCHASES: Please call if wanting to purchase larger bulk quantities (over 2,000 bulbs)
USA & INTERNATIONAL ORDERS DISCONTINUED: Our apologies to those in the USA who had planned to purchase seed garlic through us. We have decided to discontinue sales to the US at this time.
Workshops: We'll soon be scheduling workshops for the spring of 2022. Click on the Garlic Workshops category to learn more and to register. (We've moved all our workshop events to the Zoom (online video conferencing) platform during this period of COVID-19.)