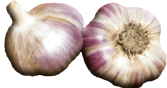 "Rasa Creek's workshops are a valuable tool for one starting into the business, the presentations are of the finest quality, given by people whose passion is garlic."
Larry Churchill
​
"Fantastic day spent at Rasa Creek. Interesting people, interesting subject matter, and a beautiful location. Jim is an extremely articulate and knowledgeable presenter. Lots was learnt!"
Dave Semmelink
"As seasoned grain farmers, looking to expand into the unique and niche market of garlic, we were finding it difficult to find information on seed, best growing practices, or marketing. Rasa Creek, particularly Jim, immediately and very generously opened up lines of communication answering every question we had, and going far beyond our expectations. Offering his first garlic workshop, we jumped on the opportunity to learn first hand from Jim and are so glad we did! In one day, Jim efficiently covered a plethora of information on the basics of garlic growth, best farming practices, marketing strategies, and was overall open to sharing his farm and previous years of knowledge and skill with garlic. The workshop went above and beyond our expectations. The mix of presentation, discussion, hands on practice and viewing, and networking opportunities has set us in a confident direction for growing garlic ourselves. Jim's personality lends to the enjoyment of this workshop as he offers intelligence, but modesty, genuine kindness, and a passion for this industry. He was incredibly generous with his time and expertise and all in attendance walked away from the day impressed by the extensive workshop he provided. We'll be planning on enrolling for the next one!"
Russell & Shea Mellows
"I walked in unsure if I was capable of growing garlic commercially. I walked out knowing I could."
Tanya Siepiela
​
"The team at Rasa Creek has provided me with the tools to become a successful garlic farmer."
John Wells
Growing Garlic Successfully & Profitably
We are hosting garlic workshops here at Rasa Creek Farm on a semi-regular basis. Check this page for updates on upcoming workshops and to register to attend.
Rasa Creek Farm is a leading supplier of quality organic seed garlic and consulting for start-up garlic farms. From the backyard gardener who grows 800 bulbs to the experienced farmer who grows three acres, garlic is a profitable crop on any scale. Learn precisely what it takes to add—or scale up—your own garlic production.
Fall 2023: 1-Day Zoom (video conferencing) Workshops
​
Saturday, Sept 30th, 9am-4pm: Growing & Marketing
VIA ZOOM
Now Accepting Registrations
​
​
All workshops listed above:
Hosted over Zoom videoconferencing platform.

Powerpoint PDF sent to all participants afterwards.

Tuition: $200.00 + 5% GST
We will continue to host our workshops via Zoom for the foreseeable future, though we may eventually re-introduce an occasional live event at our farm. Zoom has several advantages:
No travel expenses

Everyone gets a front row seat for the PowerPoint presentation

Participants from across Canada and around the world can attend

Several people can attend under just 1 registration fee
If you have a "Just say no to Zoom" policy, we understand and look forward to possibly seeing you here someday.
​
Growing from A to Z
Cultivar Selection

Field Planning

Spacing

Soil Preparation

Cover Crops

Popping & Planting

Dimplers

Time Saving Techniques

Mulch Options (pros and cons)

Irrigation Methods

Weeding Requirements

Scape Removal

Disposal or Marketing of Scapes

Saving & Growing from Bulbils

Harvest: Tools and Techniques

The Curing Shed

Processing for Market

Storage

Marketing and Planning

The Farm Business Plan

The Optimal Expansion Curve

Marketing Your Bulbs

How to Wholesale

How to Retail

Farmer's Markets

Value Added

Carving a Niche'

Creating a co-operative

The Future of Canadian Garlic

Customer Relations and Education
ALL EVENTS VIA ZOOM IN 2022. INFORMATION BELOW IF FOR POSSIBLE FUTURE EVENTS HELD AT OUR FARM ONCE TRAVEL RESTRICTIONS ARE LIFTED.
_____________________________________
​
Rasa Creek Farm is located 23 kilometers north of the township of Lumby, BC. We'll provide a detailed map for anyone driving to the workshop and you can get a rough idea of our location on the Contact page of this website. If flying from farther away, the nearest airport is Kelowna International (YLW), which is a 90 minute drive from Rasa Creek Farm. There are non-stop flights from many Canadian cities into Kelowna, as well as several cities in the USA, including Seattle.
​
If you'll be needing to stay overnight, there are several options available
Camping at Rasa Creek: Rasa Creek Farm has beautiful meadows by it's crystal clear creek and for $15 you're welcome to camp on the property. We provide on-demand hot showers in our compost toilet equipped bath house. Nights can be cool so be prepared with plenty of warm bedding.

Twin Creeks Motel: Lumby is a 25 minute drive from the farm and has one motel. Rooms are about $79 a night.
Address: 1643 Vernon St, Lumby
Phone: 250-547-9221

Enderby: If you're coming from the north, then you'll probably want to arrange for accommodations in Enderby, which is approximately 25 minutes from us to the north. There are several nice choices there.

B&Bs: With the advent of Air B&B there are more and more options each year. When searching, include the towns of Enderby and Grindrod since they are also about 25 minutes away.

Vernon: Our local "big city" is Vernon. Vernon is about 50 minutes from our farm and there are numerous hotel, B&B and resort options there, from cheap to quite pricey.