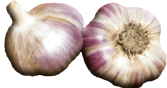 Hardnecks
​
Weakly Bolting Hardneck
​
Softnecks
Rocambole


Hardneck




Allium Sativum Ophioscorodon
In General
The garlic of choice for gourmet chefs the world over. Rocamboles may not be the easiest to grow, but they're worth the effort to at least try. Rich and complex in character, with aromas and aftertastes that raise eyebrows wherever they go.
Doukhobor Russian - Rocambole
Obviously, there's something which must have come before Purple Stripe, but this is the oldest known species that is recognizable as a true garlic... allium sativum (and in this case, because it is a hard-neck) ophioscorodon.
On the Tongue
Purple Stripes even taste ancient, meaning they reveal a wide and yet "unsophisticated" (we mean that in a good way... like innocent) array of characteristics when eaten. Ted Jordan Meredith writes, "the taste of Purple Stripes is strong, complex, and richly garlicky, without being overly sulfurous." Some find this group to be the best for roasting, producing a sweet and exciting sensation on the palate.
In the Field
As you can see from the photo above, Purple Stripes are... purple! They have a fair number of cloves per bulb; 8 to 12 being common. Because of this, the cloves are a good deal smaller than those of garlic from the Marbled Purple Stripe or Porcelain families, but they are typically uniform in size and well formed, meaning they break apart easily from neighboring cloves when "popping" the bulb. Skins are not difficult to peel but they are tight, which helps them to store well into the new year. Purple Stripes are strongly bolting and umbels are packed with many small bulbils (75-125), though not as small as most Porcelains. We've noticed that Purple Stripes tend to mature later in the season than many other varieties, pushing back the harvest date.
Cultivars We Typically Carry
Alex's Ukrainian
​
Striking purple streaks in the cloves and a distinctive flavor. We were told this was a Purple Stripe when we acquired it, but we believe it's actually a Rocambole.
Doukhobor Russian
​
The real deal, straight from a Doukhobor colony in Glade, BC. A fine example of Rocambole brought from the old country at the turn of the century. We're growing this up from bulbil and won't have any bulbs for sale until 2015.
French Rocambole
​
Can you say "beurre"? Yes, a buttery tasting garlic. We sacrificed one clove before putting our new French Rocambole into the earth and, wow. Three people independently verified detecting a buttery flavor to this cultivar.
German Red
​
A "middle of the road" Rocambole with an apple-like snap and aromatic character. Cloves practically peel themselves and bulbs are typically large. On our farm, German Red bulbils produce a full bulb with 5 to 6 cloves in their very first year.
Puslinch
​
A creamy, aromatic garlic with a strong start and long finish. Comes from the Puslinch Lake area of Ontario.
Spanish Roja
​
The prototypical Rocambole: rich, sweet, complex, full-bodied. Ranks among the top two or three cultivars in just about any taste competition.
Spicy Korean Red
​
Kim Chee and all things hot and flavorful from the peninsula come to mind. This is a winner.
Ukrainian
​
A fine specimen of Rocambole. Delicious old world flavor and reliable in the field.