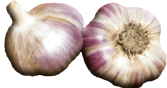 We try to make our newsletters useful and enjoyable. They are sent once every 4 to 6 weeks from late March until early November, so you needn't worry about your inbox getting swamped. Topics include:
​
Garlic growing tips

Promotional offers for members

Workshop and event schedules
​
Feel free to call with any questions about growing garlic or starting your own profitable garlic operation. We specialize in helping new farms get on their feet.
​
Sincerely,
Jim Capellini
Manager, Rasa Creek Farm