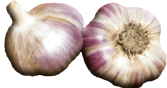 Reference Only: Not Representative of Cultivar Selection this year
The links to Family Groups in the left side-bar bring you to pages which describe the major characteristics of each of the 10 Family Groups of Garlic. Individual cultivars referenced on those pages may, or may NOT be available in any given year, and are for information purposes only.
Garlic Groups & Cultivar Descriptions
Cultivar Descriptions
Every cultivar has a detailed description in our Online Garlic Store. In addition, you can read more about each Family Group of garlic by clicking on a Family Group listed here on this page (left side-bar). If you're looking to purchase garlic please go to our Online Garlic Store.
Personality Profile
Every cultivar has a unique personality, captured in a short paragraph and included on its web-page. No two people's taste buds are the same, making it difficult to standardize a description of a given garlic, so we've decided to try something new; prose and poetry! Somehow it seems to work, and be enjoyable as well.
Growing Characteristics
For gardeners and farmers, every horticultural group page includes a description of that group's basic growing characteristics and each cultivar's page includes growing characteristics particular to that cultivar. We list average number of cloves per bulb as well as an approximate number of bulbils per umbel for those wishing to grow using the bulbil method.
On Differences Between Cultivars
If you're not yet familiar with the history of garlic and with the sometimes dramatic differences in flavor and growing characteristics between garlic cultivars, we highly recommend taking a few moments to educate yourself. There are basically ten distinct horticultural groups, or sub-species, of garlic. Knowing a bit about this diversity can help in choosing which cultivars you'd like to try next. Botanists have used genetic information to roughly determine which garlic groups are oldest and which are more recent. If we compare garlic to human evolution, it would appear something like what we've created in the depiction you see at right.
Visit our World of Garlic page to read about the history of the multitude of garlic enjoyed worldwide. We're very pleased that gardening author, Ted Jordan Meredith, has given us permission to quote extensively from his incredible compendium titled The Complete Book of Garlic.
Note for Chefs: If you use a lot of garlic then you'll be interested to know that the skins of some varieties are much easier to remove than others. Also, cloves from different cultivars vary greatly in size. Try a Rocambole if you prefer easily removed skins. Try a Marbled Purple Stripe if you prefer cloves that are large and of uniform size. Try a Porcelain if you prefer really large cloves and are looking to bake the bulb. Bon Appetit!
The Kitchen at Rasa Creek Farm
Hardnecks
​
Weakly Bolting Hardneck
​
Softnecks