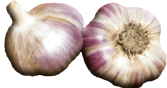 In case you were wondering, all photos of garlic, animals and landscape that appear on our website were taken here at the farm; yes...even the hummingbird and owl that bookend our header graphic.
More than merely a farm, Rasa Creek serves as sanctuary for both residents and visitors. Our intention is to steadily enhance the property's beauty, diversity, serenity and productivity, creating a dynamic balance between the practical and the sacred. Being a certified organic farm is one way we pursue this aim. Another is our goal of implementing our Permaculture Master Plan, which will include ponds, sculpture gardens, meditation trails and food forests.
​
Below are a few photographs of the farm as it currently stands. We'll keep this page updated as new features are added.
​
Enjoy the tour!
A Photographic Tour of Rasa Creeek Farm
Our website background image
This is the view from the wrap-around deck at the main house. The foreground shed is used for processing the garlic. The seasonal creek is running to the right between the Cedar trees and the garlic fields are situated beyond the creek in the distance.
The Residence & Its Views
The locals refer to our valley as "God's Country" and it does feel like a blessing to live here. Large acreages along a winding, elevated valley road keep the area quiet and the air pristine. Silver Star ski resort is just four kilometers away as the crow flies and the snow lingers here a few weeks beyond what the lower valley experiences, but we don't mind.
​
​
​
The main house sits on a steep slope above the garlic fields, giving us some stunning views in all directions.
A Diverse Eco Niche
There are spacious trails and fields as well as many acres of densely forested hills on the property. The meandering canyon is filled with useful indigenous plants and older growth trees, and provides a cool respite in August. It's possible to feel lost and far away without ever leaving the property.