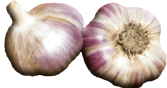 Rasa Creek Farm represents a community of garlic growers in Western Canada. We offer both certified organic and non-certified but naturally grown garlic. The health and quality of the garlic we sell is our primary concern. All of our farms are lab tested annually and submit to the highest training standards in growing, processing, and handling of garlic.*

Should you ever have any concerns about the quality of garlic purchased from us, do not hesitate to contact us upon receipt and inspection of your bulbs. We hope to build trust with our customers and create a relationship for the long term. Standing behind what we sell is a big part of that. Our customers know that if their purchase isn't right, we'll work to fix it.
* Lab testing random or suspicious looking bulbs from within a given garlic crop cannot 100% guarantee that the remaining bulbs in that crop are disease free, but it does provide a filter for issues that may be systemic throughout the crop or field. White Rot (Sclerotia Cepivorum) is the main disease which we screen for. The presence of viruses (particularly from among the potyvirus group of viruses) is ubiquitous in garlic crops around the world and at this time would be impossible to eliminate. Seed garlic from Rasa Creek Farm may, or may not, contain some level of viruses. In healthy soils and with good growing techniques, the presence of viruses and other less serious diseases can be overcome, resulting in large, healthy crops.