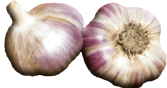 Show All Bulbs
BULK QUANTITIES STILL AVAILABLE (Fall 2023): We're removed all items from our online inventory BUT still have access to large quantities of bulbs to satisfy our farm customers. We've got approximately 50,000 bulbs in Red Russian:
Please call us at 250-547-2077 if interested.
You can see detailed descriptions of most of our cultivars on our website's GARLIC GROUPS & CULTIVARS PAGE. Please keep in mind that we don't necessarily carry every cultivar described on those pages. They are for reference only.