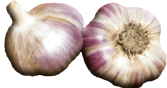 Tibetan - Seed/Culinary
NON-ORG TIB CUL
Product Details
Horticultural group::
Purple Stripe (hardneck)
Average number of cloves per large-sized bulb::
8
Maturation::
Mid- to late-season
Flavor::
Complex, strong, rich
Tibetan is among the larger Purple Stripes. It has beautiful pink skins with delicate cloves. One of the most attractive garlic cultivars out there. Bold, strong flavor and heat. Bulbs may have some small blemishes, however, they are still delicious for eating.
Save this product for later