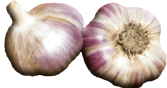 Creme de la Rasa - Seed Bulbs
NON-ORG CRM L
Product Details
Horticultural group::
Marbled Purple Stripe (hardneck)
Average number of cloves per large-sized bulb::
5-7
Bulbils per umbel::
40-60 (2 to 3 years to maturity)
Flavor::
Rich and sweet (more like a Rocambole)
Pedigree::
A mutation of German Red (Rocambole) in Rasa Creek's fields in 2014 turned out to be somewhat of a happy accident. Rocambole flavor in a Marbled Purple Stripe type bulb was the perfect match. Growers across Canada have now tested its reliability and confirmed we have a stable, delicious and big bulbed winner.
Personality Profile::
Seventh Son of a Seventh Son, with innate skills akin to something magical, Creme de la Rasa has grown to full manhood in a quiet yet powerful way, and now maturely strides into the community hall with something important to say. "We can do this" Creme intones in rich baritones, "No longer is it acceptable to rely on imports to supply our citizens with garlic. We can do this ourselves."
Our flagship branded garlic. Creme de la Rasa combines the absolute best of both growing characteristics and flavor. Beautiful bulbs with well defined and large cloves, hardy in the field and the taste of the finest of Rocamboles. Not a scorcher, but a heart and palate melter.

Save this product for later