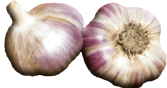 Red Russian - Culinary
NON-ORG RRD CUL
Product Details
Horticultural group::
Marbled Purple Stripe (hardneck)
Average number of cloves per large-sized bulb::
6
NOTE: These bulbs are large and firm, but often have one "dented" clove (about 1/4" x 3/8") caused by the processing equipment.. A terrific bargain at this price.
The staple cultivar for BC growers everywhere. Evenly sized cloves and vigorous growing characteristics make this a favorite for farmers, and consumer recognition makes it an easy sell. There is also a Rocambole called Russian Red (note the word position swap) which we carry under the name of Uncle Ray's Rocambole Russian Red. These two cultivars have vastly different characteristics despite their similar name.
Save this product for later