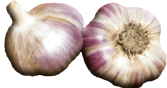 Creme de la Rasa - Culinary
NON CRM CUL
Product Details
Horticultural group::
Marbled Purple Stripe (hardneck)
Average number of cloves per large-sized bulb::
6
Flavor::
Rich and sweet (more like a Rocambole)
Our flagship branded garlic. Creme de la Rasa combines the absolute best of both growing characteristics and flavor. Beautiful bulbs with well defined and large cloves, hardy in the field and the taste of the finest of Rocamboles. Not a scorcher, but a heart and palate melter. Sizes vary and can include x-small and smalls.
NOTE: These bulbs are at least 1.5".

Save this product for later